Pt. Chevalier Chiropractic Clinic has been established in the area for 37 years and was taken over by Cameron Finlayson (Chiropractor) in 2006.   This was following the retirement of the clinic's previous Chiropractor Clive Hill (Chiropractor).   He was trained at RMIT in Melbourne, then worked extensively in Australia and the UK before moving back home to Auckland.  His first Auckland clinic was Action Chiropractic Clinic, which was merged with Pt Chevalier Chiropractic.  The clinic focuses on quality best practice spinal care for Aucklanders of all ages. 
The team at Pt. Chevalier Chiropractic also has a strong commitment to on-going education at all levels of the practise.  Firstly we promote client education from the onset of your care so you the client can make informed decisions about what is best for you and your health.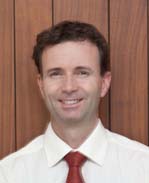 Cameron Finlayson
(Chiropractor)
B.App.Sc, B.Ch.Sc, B.Sc,  Grad.Cert..Acup, Member NZCA 
 Cameron owns the clinic and has over 20 years of experience gained in New Zealand, Australia and the UK. After gaining a science degree from Waikato University he went on and obtained his Chiropractic qualifications at the prestigious RMIT, Australia. He then went on to study Acupuncture at AUT, Auckland.